Joseph Stanley Memorial Soccer Scholarship Fund
Criteria: Separate application; Stanley family chooses recipient. Download Application
Amount: $5,000
The Joseph Stanley Memorial Soccer Scholarship Fund provides a one-year $3,000 award to an Orange County High School graduate who plans to attend university, community college or trade school. Recipients must hold a minimum grade point average of 3.0 and must have been a member of the Orange County High School varsity soccer team. The scholarship may be used to pay for tuition only.
Joseph "Joe" Stanley began playing soccer at the age of five. He played several different positions, but he settled on the goalkeeper position as he entered his teen years. He attended soccer camps to hone his skills as a goalie, and he was playing on the Orange County High School Varsity Soccer Team in the spring of 2007. He was very much a team player.
Joe was selected to be a People-to-People Student Ambassador to Australia and would have made the journey during the summer of 2007. He was very enthusiastic about this upcoming adventure, and he was working diligently to raise money for the trip. "I will be representing my country as a young person who desires to know and understand other cultures," Joe wrote in his application for the program. "I want to represent my country as one that loves peace. It's also a wonderful opportunity for me to grow as an individual and explore other environments, cultures, and people."
Joe loved the family dogs and cats. He raised one of the dogs, Penny, as his own. Her temperament and demeanor speak well of his kindness and patience with her. He had a keen sense of humor and enjoyed doing funny things to make people laugh. He had a genuine interest in anyone who came across his path. Joe was an easy-going individual, the kind of person who always had time to notice people, animals or something in nature. His short life here made a lasting impression on many.
The Joseph Stanley Scholarship fund was established by Joe's family following his death in an automobile accident in 2007. The first scholarship was awarded in 2008. Joe was a member of the Orange County High School Class of 2008.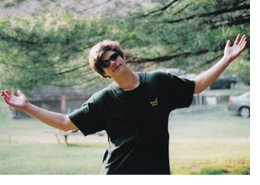 Orange County Education Foundation
Taylor Education Administration Complex
200 Dailey Drive | Orange VA 22960
treasurer@ocedfoundationva.org
The Orange County Education Foundation does not discriminate on the basis of gender, race, color, age, religion, national origin or disability in its employment practices or educational program and activities.