Lorraine Ryan Memorial Scholarship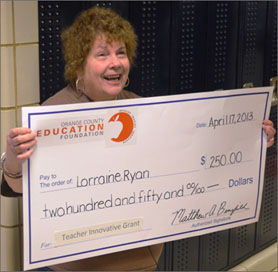 Criteria: OCHS student who is planning a career in journalism, creative writing, or English and has excelled in these areas throughout high school
Amount: $1,000
Lorraine RyanThe Lorraine Ryan Memorial Scholarship is awarded each year to a senior who is planning to pursue a career in journalism, creative writing, or English and has excelled in these areas throughout high school. The award recipient is determined by the OCHS English Department and the family of Lorraine Ryan from the students who complete the local scholarship application.
Lorraine Ryan graduated from Island Trees High School in Levittown, N.Y. in 1964, and Adelphi University in 1990. Later in life she earned her teaching certificate and taught high school English and Journalism for more than 20 years. After brief teaching jobs in Roanoke Rapids and Wayne Country Day School in North Carolina, Lorraine finally settled in Orange, Va. and began teaching at Orange County High School in 2001. She retired from teaching in 2014. Lorraine was a devoted mother and teacher. She loved her students and music of all kinds. She saw potential in students that they did not see themselves, and helped them develop their skills which gave them confidence to face their future challenges.
Lorraine was known to be a great conversationalist. She was a member of Christ Anglican Fellowship in Orange, Va. where she participated in Bible Studies, and provided greeting cards for all occasions to be sent to congregants. An animal lover, Lorraine kept two cats, Atticus and Scout; named for characters from her favorite book, To Kill a Mockingbird. Lorraine was also a member of her local book club and was very social spending time with friends and traveling to visit with her son and siblings.
Orange County Education Foundation
Taylor Education Administration Complex
200 Dailey Drive | Orange VA 22960
treasurer@ocedfoundationva.org
The Orange County Education Foundation does not discriminate on the basis of gender, race, color, age, religion, national origin or disability in its employment practices or educational program and activities.